Betty Aston Easterday McCloud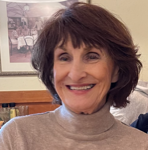 Newport News, Va. – Betty Aston Easterday McCloud went to be with the Lord on September 17, 2022.
She was born in Suffolk, VA on October 28, 1941, the daughter and first child of the late Beverly C. Aston and Janie Byrd Aston and made her home in Newport News, VA for most of her adult life.
She is survived by her daughter, Deborah E. Wiggins (Lloyd) of Yorktown, VA and her son, David L. Easterday of Newport News, VA. Her older son, Stephen O. Easterday preceded her in death as did her husband, Herman McCloud. She leaves behind seven grandchildren, Jessica H. Jones (J.D) of Lincoln, AR, Justin Heaton of Fayetteville, AR, Jenna Heaton of Yorktown, VA, Stephen Easterday of Richmond, VA, Megan, Kaitlin (fiance, Freddy) and Connor Easterday of Clifton, VA and two great-grandchildren, Langley and Georgia Jones of Lincoln, AR
She is also survived by one sister, Beverly A. McGahee (Terry) and numerous nieces, nephews, cousins and friends. She was predeceased by her brother, Ron Aston and sister, Kathy A. Parker. Heartfelt thanks are expressed to her excellent caregivers of the past few months and to the many who were faithful with their visits and prayers.
Betty was an honor graduate of Suffolk High School (1960) and began working at C&P Telephone Co., while still in school, following in her mother's footsteps. Her career advanced with Bell Atlantic (now Verizon) as she went into marketing and sales, earning numerous awards. She was blessed with an early retirement in 1990, and she delighted in having more time for her family, to whom she was totally devoted. Betty was a beautiful, smart and gracious lady. She loved gardening, decorating, and cooking among other things but mostly she loved people and they loved her. She will be missed by many.
Betty grew up in Bethlehem Christian Church, was an associate member of Suffolk Christian Church but spent most of her adult life at Orcutt Baptist Church where she was recently named deacon emeritus. A strong Christian her entire life, she devoted much of her time to serving her Lord.
A graveside service will be conducted Wednesday, September 21, at 11:00 a.m. at Bethlehem Christian Church cemetery, officiated by the Rev. Michael D. Halley. A Celebration of Life service will be held at a later date at Orcutt Baptist Church, Newport News, VA.
Amory Funeral Home, Grafton, Va.is serving the family.