Bette Joyce (Smith) Myers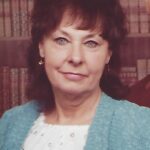 Bette Joyce (Smith) Myers, of Grafton, Virginia, lost her fight with cancer on January 15th, 2021. She was 92.
Naturalized as a U.S. Citizen in 1954, Bette was born on April 28, 1928 in Maidstone, Kent, England. As a child, she survived The Blitz, an intense bombing campaign undertaken by Nazi Germany against the United Kingdom during World War II. She often reflected that Winston Churchill's leadership and her father's strength gained from his service as a cavalryman in the Queen's 5th Royale Regiment during the Great War, kept their family alive. Bette was preceded in death by her parents, one niece, and her husband, CMSGT Samuel G. Myers, USAF (Ret.), a Virginia native, who served 30 years.
Military life led them to numerous locations stateside, abroad and a life-changing tour to Lima, Peru. Throughout, she remained a steadfast lover of aviation, a proud mother and active participant in numerous morale, welfare and recreation activities in her community. Bette really loved fashion, lunches out, birds and music. She thrived on her gift of song and honed her skill by singing with any church choir or municipal chorale she could find– from a one-room church in the Southern California desert to the Yorktown Chorale where she proudly participated in the 400-year celebration at Jamestown and many other seasonal and patriotic performances.
Survived by her three daughters, Sharon Seward and husband, Kenneth Seward of Grafton, Debra Farris and her husband, Steve Farris of Yorktown and Robyn Sarcomo and her husband, Gino Sarcomo of Odenton, MD., one grandson, four granddaughters, 2 step-granddaughters, 3 great grandchildren and 4 step-grandchildren, a sister in the U.K., Una Wilson and one nephew, a great niece and two great nephews.
A memorial service will be held at 11 a.m. Saturday, February 6 at the Columbarium in Peninsula Memorial Park, 12750 Warwick Boulevard, Newport News, VA.
A special thank you to Amory Funeral Home and the Nottingham staff at Warwick Forrest.
Our family asks all women regardless of age ensure they receive regular well woman exams. Endometrial cancer is often silent. Early detection makes treatment possible.