Berlyn Ferguson Billeter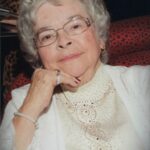 Yorktown, Va. Berlyn Ferguson Billeter, 89, passed away on Sunday, February 26, 2023.
Berlyn was a native of Poquoson and a long time Yorktown resident. She was a former member of the CB club and VFW 824 Woman's Auxiliary. She loved her children and enjoyed shopping and spending money.
She was preceded in death by her husband of 49 years, Virgil L. Billeter a son Kenneth Diaz, and grandsons Corey and Kegan and two brothers, Lauren and Gene Ferguson
She is survived by two sons, Larry Diaz (Mary) of Yorktown, Anthony (Tony) Diaz (Ann) of Poquoson; four daughters, Lelia Sutton (Richard) of Carrollton, Lynette Diaz Felty of Poquoson, Sandra Dean (Mike) of Grafton, and Kim Braddy (Kenny) of Yorktown. She is also survived by a brother, Archie Ferguson (Wilma); 14 grandchildren, Joseph (Sarah), John, Angela, Jennifer (Joseph), Michael, Casey (Cameron) Christopher (Sandra) Tyler (Kelly), Hunter, Nicholas and Amy Mason, Robert (Ashley) and 15 great-grandchildren, CJ, Lexi, Aubrey, Brandon, Grace, Marley, Elijah, Olivia, Bella, Austin, Charlotte, Jayden, Todd, Clayton and Richard.
A funeral service will be held at 2:00 PM on Thursday, March 2, 2023 in Amory Funeral Home. Burial will follow in Parklawn Memorial Park. The family will receive friends on Wednesday from 7:00 to 8:30 PM in Amory Funeral Home.