Barbara Wells Mitchell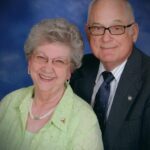 Yorktown, VA – Barbara Wells Mitchell, 80, passed away on Thursday, February 25, 2021. Barbara was born and raised in Dinwiddie, Virginia and moved to the peninsula in 1961. She worked at Langley AFB until she retired in 1994. She was a member of St. Luke's UMC and the Sarah Sudduth Circle. Barbara was an avid bowler, Elvis enthusiast and always eager to travel. Her greatest joy was as a loving and devoted wife, mother, grandmother and friend.
Barbara was preceded in death by her parents Esther and Van Webster Wells and granddaughter Jordan. She is survived by her husband Edward Goodman Mitchell Jr.; they would have celebrated their 60th wedding anniversary on April 29th. She is also survived by her children, Sheryl Franklin, Van Mitchell and Todd Mitchell (Kathy), six grandchildren – Taylor, Vannah, Mitchell, Haley, Tyler and Kaylin, and cousins Clyde and Reneé Bryant.
A graveside service will be held on Thursday, March 4, 2021 at 1:00 PM in Peninsula Memorial Park by Reverend David Hampton. In lieu of flowers contributions to York County Fire and Life Safety would be appreciated. Arrangements by Amory Funeral Home, Grafton Virginia.