Barbara Anne Wilson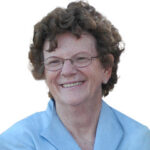 Our beautiful Mother Barbara Anne Wilson passed away peacefully on Sunday, November 20, 2022 at the age of 90. She was born September 3, 1932 in South Hadley, MA to parents William Henry Lines and Agnes Weir Lines, and was the youngest of four children.
She was a loving and devoted daughter, wife, mother, grandmother, great-grandmother, aunt and cousin. On April 20, 1951 she married the love of her life, Robert W. Wilson. They were married for 63 years and had five children. During her lifetime, she became a 'reluctant', but devoted military wife for 25 years, number one caretaker to son Craig, served as the first-mate to her namesake schooner The Barbara Anne, an avid cat lover, an expert scrabble, gin rummy and pitch player, she bicycled through Holland, throughout Virginia and even across the Chesapeake Bay Bridge Tunnel, taught Body Recall, bodysurfed from Maine to Florida, California, Hawaii and Aruba, well into her 80's. Barbara's greatest hallmark was her immeasurable propensity for love. She always wanted the best for her children, grandchildren and great grandchildren. She found joy in their success and happiness, and was always there to cheer them on or provide encouragement during difficult times. Collectively we all knew how special we were to her as individuals – her heart was big enough for all of us even though parts of it were broken with her many losses. She was a gracious hostess with a talent for entertaining during holidays, birthdays, graduations, luncheons or a simple poolside wine and cheese with family and friends (probably her favorite!).
She leaves behind her son Christopher Robert Wilson, daughter Kimberly Wilson Strunk, grandchildren Julia Lines Wilson, Kelsey Amanda Wilson, Justin Christopher Wilson, William
Lines Wilson, Bryan Douglas Heden, Olivia May Strunk, and 7 great grandchildren.
She is preceded in death by her husband Robert William Wilson, son Clifford Andrew Wilson, son Curt James Wilson, son Craig William Wilson, granddaughter Carrie Lynn Jenni, great grandson Nicholas Benjamin Jenni, son-in-law Steven Michael Strunk (Kimberly) and daughter-in-law Katey Higgins Wilson (Christopher).
A visitation and celebration of life will be held on Wednesday, December 7, 2022, 6:00pm at Amory Funeral Home, 410 Grafton Drive, Yorktown, VA 23692.