Barbara Ann Avant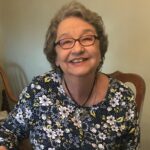 Barbara Ann Avant, 80, passed away peacefully on June 16, 2023. Barbara was born on September 14, 1942, in Newport News, VA and was a lifelong resident of the peninsula.
She was preceded in death by her beloved husband of 53 years Robert Earl Avant.
Barbara is also preceded in death by her parents George and Mazie Adkins and brother George Adkins Jr. She is survived by her daughters Natalie Ray (Don), Joyce O'Neill (Mike), Melissa Avant, a son Robert Avant, Jr. (Nancy), grandchildren, Laura and Woody Ray, Allen, Andrew, and Adam (Talia) O'Neill, Nick Avant, sister Dorothy Adkins Sanders (David), as well as a host of nieces and nephews.
Barbara married her 4th grade childhood sweetheart. Together they raised four children and lived to enjoy their grandchildren. With four young children, Barbara earned her Associates degree at TNCC and earned her license as a Registered Nurse. She loved working as a labor and delivery nurse for a span of forty years beginning at Mary Immaculate Hospital and retiring from Williamsburg Community Hospital. Her greatest joy was bringing life into the world. Her hobbies included gardening, quilting, stained glass, reading and crossword puzzles. Barbara had a strong faith in God throughout her life and longed to join her beloved husband in heaven.
A Celebration of Life service will be held at Lebanon Christian Church, 409 Yorktown Road, Newport News, VA 23603, on Wednesday, June 21, 2023, at 12:30 PM. Visitation to follow.
In lieu of flowers, please donate to Operation Smile or your charity of choice.