Augustine Warner Robins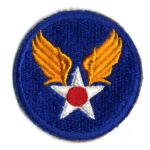 Yorktown, Va. – Augustine Warner Robins, 95, passed away on Sunday,
March 22, 2020. He was a native of Virginia and longtime peninsula resident. Warner was a World War II veteran serving in the US Army Air Corps.
He retired from NASA in 1980 after 31 years of service. He was a member of Grace Episcopal Church.
He was preceded in death by his wife of 64 years Carolyn Hudgins Robins and is survived by his sister, Martha Mallory Sinclair Robins Maclay, children, William Tyler Robins (Jana Blue) of Richmond, Augustine Warner Robins Jr. (Virginia Thomas) of Vienna, Matthew Todd Robins, (Jean Wooldridge) of Richmond, Katherine Hudgins Robins of Richmond, and Andrew Murray Robins (Karen) Lakeland, Florida; 11 grandchildren, Duke, Mac, Courtney, Thomas, Alison, Evan, Bonnie, Beth, Kurt, Jenna and Annemarie; 8 great grandchildren, Emmalee, Ellie Beth, Maggie, Lillian, Beau, Bowden, Mabel, and Sadie.
A celebration of Warner's Life will be held at a later date in Grace Episcopal Church, Yorktown. A reception will follow in the church parish hall.
Memorial may be made to the Red Cross Peninsula Chapter 1323 West Pembroke Ave., Hampton, Va 23661 or to Yorktown Arts Foundation P.O. Box 657, Yorktown, VA. 23690. Arrangements by Amory Funeral Home, Grafton, VA.