Audra A. Caldwell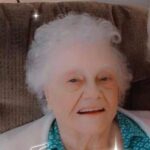 Hampton, Va. – Audra A. Caldwell, 92, widow of Asa B. Caldwell passed away on Sunday, May 7, 2023.
She is survived by her sons, Steve, Charles, Cliff and Robert her brothers, William, Joe, Roy and Larry as well as 5 grandchildren and 2 great grandchildren.
The family will receive friends on Friday from 12:30 to 1:30PM in Amory Funeral Home Followed by graveside service in Hampton Memorial Gardens at 2:00 PM.