Armandine Harris Twigg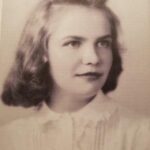 Seaford, Va. – Armandine Harris Twigg, 95 passed away on Tuesday, March 23, 2021. Mrs. Twigg, known to her friends as Evie, was born in St Augustine Florida and resided in Tampa before moving to Seaford in 1982. She worked for many years at Senior Center of York in Yorktown and was a member of the Seaford Woman's Club and an active member of Grace Episcopal Church. Prior to moving to Seaford, she volunteered for many years with the Association of Florida Hospital Auxiliary serving as President from 1977 to 1978.
Mrs. Twigg was preceded in death by her husband of 38 years John Frederick Twigg, Sr. and a son John Frederick Twigg, Jr. She is survived by her daughter, Janine Fonda Twigg Morse (Jay) of Jacksonville and her sons, Laurence William Twigg (Patricia) of Silver Springs, MD and Jerrold Leon Twigg (Virginia) of Seaford and 9 grandchildren and 11 great grandchildren. She was loved by all and will be greatly missed.A service will be held at 11:00 AM in Grace Episcopal Church Cemetery on Saturday April 17, 2021. Arrangements by Amory Funeral Home, Grafton, Va.