Archie Andrew "Tubby" Childrey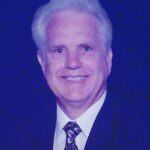 Seaford, VA – Archie Andrew "Tubby" Childrey, 83, of Seaford, Virginia entered fully into the presence of his Lord and Savior on Monday, March 9, 2020 after a courageous battle with ALS (Lou Gehrig's Disease). Archie was born in South Boston, VA. He was the son of the late James Hurley Childrey and the late Bessie New Childrey. He married his high school sweetheart, Faye Talbott Childrey, also of South Boston, VA. Archie was hired by the Newport News Shipyard as an electrician in 1959. He proceeded from that position to Facilities Maintenance, which included working on the company's biggest and highest capacity cranes followed by managing all of the shipyard's assets in Maintenance Planning and Engineering. Archie's career at the Newport News Shipyard had spanned 40 years when he retired in 1999.
His retirement years were full of repairing many electrical issues for his family, friends, neighbors, and his church, Zion United Methodist Church. Archie's last house wiring renovation was completed in 2018 at the age of 81. When not working to solve electrical issues, Archie spent his time tinkering with his classic 1965 Chevrolet Impala, caring for his wife, and enjoying his family.
Archie is survived by his wife, Faye; son, Gary and wife, Annette of Yorktown; daughter Lisa, and husband, Robby of Yorktown; grandchildren, David Turner, and wife, Suzanne of Newport News, Staci Thomas and husband, Matt of Hayes, Trey Richardson of Lynchburg, Travis Childrey of Ft. Lauderdale, Florida, Jordan Richardson and Jeremy Richardson, both of Yorktown; great-grandchildren, Aedan and Reese Turner of Yorktown, Cyrus Turner of Newport News, and Madilyn and Annabelle Thomas of Hayes; sisters, Bernice C. Lowery and husband, Jesse, Lois C. Buchanan; brother, Enzie Childrey and wife, Mary Lou.
Other than his parents, Archie was preceded in death by sisters, Danese Talbott, Naomi C. Young, and Linda C. Wilmouth; brothers, Elvin Lee Childrey, and James W. Childrey.
The family wishes to thank caregivers, Charlotte Jefferson, Ron McDavis, Christina Panico, and Arley Cruz as well as Hospice Community Care for their attentive care of Archie over the last seven months.
A Funeral Service will be held at 2:00 pm on Thursday, March 12, 2020, at Zion United Methodist Church with Rev. David Magruder and Pastor Rick Ragan officiating. Interment will follow in the church cemetery. The family will receive friends 1 hour prior to the service. Arrangements by Amory Funeral Home, Grafton, VA.