April Joyce Cornick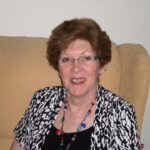 Yorktown, Va.- April Joyce Cornick, 71, of Yorktown passed away peacefully on Wednesday, February 5, 2020.
April was born in Middle Island, NY and graduated from Longwood High School in 1966. Virginia became her home, where she raised her children. She was a talented artist and was active in the arts community in Yorktown for over 35 years. She often volunteered her time, including teaching basket weaving at the VA, as well as showcasing her art and volunteering at the Gallery at York Hall. She was surrounded by wonderful groups of friends, neighbors and other artists, all of whom will miss her fun spirit, generous heart and infectious laugh.
She was preceded in death by her husband of 25 years, Henry "Tom" Cornick; her siblings Carol, Charles and Peter Peltz; and her parents Barney and Alice Peltz. She is survived by her sons, Andrew Wright (Cathi) and Mathew Wright (Kelli); stepdaughter Lynn Mendibur (Tony); sister Priscilla Moseley; seven grandchildren; one great grandson; niece Vanessa Anderson; two grandnieces; one grandnephew; and her beloved cat, Sassy.
Family will receive friends on Tuesday from 3 pm to 5 pm at Amory Funeral Home, Yorktown, Virginia. Burial is private.
In lieu of flowers, the family asks that friends donate to the SPCA in April's memory.