Annie Welch Long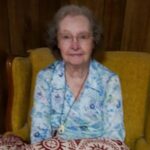 Annie Welch Long, 94, of Tabb, Virginia, peacefully passed away on June 4, 2021, at Riverside Regional Medical Center. Annie was born on October 31, 1926, to Dennis and Nellie Welch in Bryson City, North Carolina.
After graduating, she worked at Langley Airforce Base for over fifteen years, where she was loved by all who knew her. During this time, she was able to meet many of the early pioneers of America's space program.
In 1945, she met Harold at a USO activity, and said from the first time she saw him, she knew he was the love of her life. They married in 1946 and shared fifty-one loving years. Annie and Harold went on to adopt their only child, Theresa Anne in 1964. When they adopted Theresa, Annie became a full-time mother and housekeeper.
Annie was predeceased by her beloved husband of fifty-one years, Harold R. Long; her parents, Dennis and Nellie Welch; siblings Evelyn Paxton (Shuford,) Christine Crisp (Wayne,) Dennis Welch Jr., and Joseph Welch; and William (Herbie) Blake, who was a part of her chosen family.
She is survived by her daughter, Theresa Long Jolly, (Wesley,) and her chosen family, Barbara Barfield, Marvin and Libby Croker, Patty Padgett, Robert and Debbie Blake, Stacy Franklin, Vicky and Cory Pflug, Elizabeth Hershberger, Laura Blake, and Dean and Craig Jernigan.
A celebration of her life will be held at Amory Funeral Home on Tuesday, June 8, 2021, at 11:00 am with the family receiving guests immediately following the service. Annie's favorite color was RED so please wear some red in her memory. In lieu of flowers, please consider a donation to St. Jude Children's Research Hospital.