Annie Laurie Brinson Kirby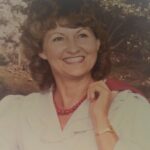 Annie Laurie Brinson Kirby passed away on Sept. 28, 2021. Graduated from Chinkapin High School and Harbarger Business College. She was retired from BASF company. She was preceded in death by her son William Blanton Ogden and is survived by her sister Elizabeth Edwards and nephew Stewart Brock, daughter Stephanie Ogden and grandchildren Richard Ogden, Johnathon, Matthew, and Victoria Kirtley. Mom, you are missed and loved forever!
Services will be held privately with family and friends.