Annette P. Lash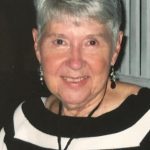 Annette P. Lash, 81, passed away on Wednesday, December 5, 2018. Annette was born in Gloucester, VA and was a Peninsula resident for 55 years. She worked as a secretary at the Chesapeake Corporation and retired from BHA. She attended St. Luke's United Methodist Church in Yorktown.
Annette is survived by her husband of 58 years, John A. Lash; two daughters, JoAnn Modzelewski (Dave) of York County and Linda Schumacher, her children Lauren and Ryan and their father Steve of Hampton; and a sister Ella Mae Young of West Point. She was preceded in death by her parents and six siblings.
A funeral service will be held at 11:00 am on Tuesday, December 11, at St. Luke's United Methodist Church, with a reception immediately following in the Grove @ St. Luke's. The family will receive friends one hour prior to the service in the church. A private interment will be held at Parklawn Memorial Park.
Memorial donations may be made to the York County Church Women United Food Closet, 300 Ella Taylor Road, Yorktown, VA 23692 or to the Alzheimer's Association, 6530 North Center Drive, Suite 102, Norfolk, VA 23502.
Arrangements by Amory Funeral Home, Grafton.