Anne-Lisa Mills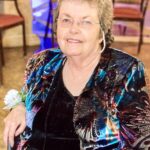 Anne-Lisa Mills, commonly known as Lisa, passed away at age 84 on Thursday, August 3, 2023.
She was a native of Philadelphia, PA and was a peninsula resident since 1960. Lisa retired from York County Public Schools as an art teacher in 1991 after 31 years. She was also a member of Zion United Methodist Church, Beta Sigma Phi, The Red Hatters and was Queen of the Yorktown Battlefield Babes.
Lisa was preceded in death by her parents: Fritz and Ruth Schindler, and her husband of 49½ years, William Wesley Mills Jr. She is survived by her daughter Dax Mills, her son Darryl Mills, a brother Charles Raymond Schindler, and 3 grandchildren: Zia, Xander and Yale.
A funeral service will be held in Zion United Methodist Church on Friday, September 1, 2023 at 11:00am. Interment will be held in Peninsula Memorial Park following the service. The family will receive friends Thursday, August 31, 2023 from 6:00 – 7:00pm at Amory Funeral Home, Grafton.
Contributions in Lisa's honor may be made to Eggelston, 5145 E Virginia Beach Blvd., Norfolk, Va., 23502, where her son Darryl lives, at eggelstonservices.org, 757.586.5583.