Anne Carroll Gardner Gibson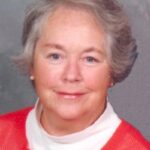 Yorktown, Va. – Anne Carroll Gardner Gibson died at her home in Yorktown, Virginia on Monday, January 3, 2022. Fond of living and roaming on seashores, Anne and her husband William E. Gibson Jr. (Bill) moved to Yorktown 19 years ago when they were uprooted by Hurricane Isabel from their flooded dock-side home in Seaford, Virginia. Anne was born 84 years ago on November 24, 1937 in Charlottesville, Virginia, the daughter of the late George H. and Willie Lee Gardner. She spent her childhood in Albemarle County living in homes that her builder-father constructed . She relished the summers spent with her maternal grandparents, John and Rosalee Glass, in Florida, Alabama, and Kentucky. She graduated in the top ten of her class from Albemarle High School where she was head cheerleader and served two years as representative to the Model General Assembly in Richmond. Anne always considered one of her achievements to be catching a 110-pound tarpon in Florida. at the tender age of 13. Anne worked in secretarial and administrative positions for the telephone company, Goochland Schools, and Albemarle Paper Company. She was Assistant Director of Volunteer and Patient Advocacy at the University of Virginia. She will be remembered by her friends and church family for her ready smile and cheerful personality. Anne and Bill were married for 62 years. They spent their winters on the Florida coast in Daytona Beach and moved to Seaford in 1982 where they enjoyed cruising and fishing in their motor boat, Gibson Girl. While living in Seaford, Anne was President of the Women's Club of Seaford and active in the Red Hat Society. Anne is survived by her husband Bill who was her indispensable caregiver for the past several years. She is also survived by her sister Murielsue (Sue) Clark and her husband Jim of Waynesboro, Virginia; her daughter Christie Graf and her husband Mike of Charlottesville; her daughter Susan Parks and her husband Wally of Keswick, Virginia; her son William III of Tucson, Arizona; her grandchildren Jessi Nadkarni, Gracie Gambino, Rachael Graf, Audrey Parks, Loisanne Gibson, and William Gibson IV; and her great grandson Jacob Nadkarni.
The family would like to thank Kindred Hospice for all the help and care given to Anne during this time.
Anne will be cremated. A private graveside service will be held on Friday, January 14, 2022
A memorial service is being planned for a later date. Donations in her memory may be made to Zion United Methodist Church, 2109 Seaford Road, Seaford, VA, 23696.