Ann Marion Kemple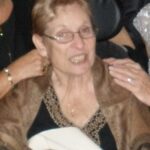 Yorktown, Va. – Ann Marion Kemple, 79, passed away on Saturday, October 29, 2022.
Marion was a native of Bayonne, New Jersey and a Yorktown resident since January 2008. She was a former member of St. Vincent DePaul Catholic Church in Bayonne, NJ and was attending St. Joan of Arc Catholic Church, Yorktown, VA.
Marion spent the majority of her years raising her children and doting on her grandchildren and great-grandchildren. She later worked for the Military Ocean Terminal in Bayonne, New Jersey as a secretary.
She was preceded in death by her parents Valentine and Anne Trymers Hanf and a brother Valentine F. Hanf, Jr. She is survived by her husband of 58 years John W. "Jack" Kemple and her sons, John W. Kemple, Jr., and his wife Kimberly, Scott Kemple, and Matthew Kemple and his wife Rani as well as her sisters Barbara Hanf, Valorie Manzella and her husband Paul, and Denise Sommers and her husband Dennis. She is also survived by her grandchildren, John, George, Nicholas, Christopher, Shawn, Andrew, Autumn Rose, Kyla, and Landon and 4 great grandchildren, Johnny, Adriana, Kaine and Xavier.
The family will receive friends on Thursday, November 10, 2022, from 2-4 PM in Amory Funeral Home. A memorial mass will be held on Friday, November 11, 2022, at 2:00 PM in St. Joan of Arc Catholic Church, Yorktown, Va.
The family would like to thank Riverside Hospice care for all the love and support given to Marion during this time. In lieu of flowers, donations can be made in Marion's name to Riverside Hospice, Attn: Kim Parker, 856 J. Clyde Morris Boulevard, Suite C, Newport News, Va. 23601.