Ann Hardy Ingle Elksnin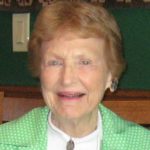 Ann Hardy Ingle Elksnin, formerly of Seaford, VA, died Sunday, November 10, 2019 at the Gardens of Warwick Forest.
Ann was born February 13, 1923 in Sebring, Florida, the daughter of Pauline Hardy Ingle and James Washington Ingle. She is survived by her two sons, Henry Nicholas Elksnin and his wife, Linda, of Lexington, SC; James Robert Elksnin and his wife, Dianne, of Kingston, MA; a granddaughter, Erin Berry and her husband, Brian, and great grandsons, Caleb, Landon, and Preston, of Kingston, MA; and three nieces and two nephews. She is preceded in death by her husband of 63 years, Henry (Hank) Elksnin; and siblings, Robert Ingle, Jack Ingle, and Freda Harrington.
Following graduation from James Madison College (now James Madison University), Ann accepted a secretarial position in the Engineering Services Division at NACA (now NASA), where she met her future husband. She and Hank Elksnin married in 1944 and built a house on Chisman Creek., where she raised two boys, and enjoyed gardening and sailing.
Like many of her generation, Ann recognized the importance and obligation of service.
Over the years she volunteered at the Bargain Box, Meals on Wheels, the Watermen's Museum, and the gift shop at York Hall. She was proud to support Natasha House, a transitional house for homeless women and their children. She was a long time supporter of Jackson-Feild Homes, which provide behavioral health services to children suffering from severe emotional trauma, mental illness, or addiction.
A member of Grace Church parish for almost 70 years, Ann served on the Altar Guild for more than 50 years, led a group that made the beautiful needlepoint kneelers still used in the church, and helped establish the church preschool.
Ann was active in a variety of organizations. She was president of the Yorktown Women's Club, president of Comte de Grasse Chapter of the Daughters of the American Revolution, and a member of the United Daughters of the Confederacy.
A talented seamstress, Ann made many of her clothes and created many beautiful quilts. She had a lifelong interest in music and began playing the clarinet in seventh grade and was a member of the award-winning Sebring High School Band. At Madison she assisted her band professor, who was a retired member of the John Philips Sousa Band.
Ann was adventurous, leaving her family in Florida, moving to Virginia for college and employment, which was unusual for women at that time. Her sense of adventure extended to flying in Hank's single engine Culver V, piloting a boat on the Thames River, and driving to Mexico and California in a Porsche 914.
Ann was curious about the world and kept up with current events. She was fascinated by people and often remarked, "Aren't we people peculiar?" and "People really do keep life interesting."
Ann loved her family and kept up with relatives far and wide. When she was in her eighties, she took her Florida nieces to meet family in Bedford, VA. She will be sorely missed by her family and many friends.
A Memorial Service will be held at 10 a.m. Thursday, November 21 at Grace Church in Yorktown. Burial will be in Grace Church Cemetery. A reception will follow in the parish hall.
The family wishes to thank the dedicated staff at Warwick Forest, where Ann made her home for the past twelve years. In lieu of flowers, memorial donations may be made to the Waterman's Museum, P.O. Box 519, Yorktown, VA 23690; Grace Historical Church Preservation Foundation, P.O. Box 123, Yorktown, VA 23690; or to the charity of one's choice.