Ann Chambers Mennell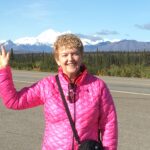 Ann Chambers Mennell, 71, of Yorktown, VA., died on Saturday 18, 2020. Born in 1948, in Hampton, VA she was the daughter of the late Girard Chambers and Agnes Boyhan Chambers. In addition to her parents she was preceded in death by her brother Girard Chambers III.
Growing up in Hampton, VA., Ann graduated from Kecoughtan High School and then earned a bachelor's degree from Appalachian State Teachers College. Ann then accepted employment with the National Aeronautics and Space Administration. She was assigned to the Langley Research Center working with the notable Richard T. Whitcomb.
In 1972, while working at Langley, Ann met her future husband Robert. The couple was married in St. John's Episcopal Church, Hampton, VA. and shortly after the wedding, transferred to Los Angeles, California. Ann then began working
for the USAF Space and Missile Command while earning a Master's Degree from Cal State University. Ann continued with the USAF, rising within the Defense Logistics Command to assume responsibility for the Western United States.
In 2001, Ann's final assignment returned her to the Langley Research Center as the center's Director of Human Resources.
In spite of her demanding work assignments, Ann found time to race motorcycles to the Woman's #1 position in Southern California, play competitive golf and to travel worldwide. Ann always had a smile and a good word for everyone – she will be sorely missed.
A Celebration of Ann's Life is to be held on Saturday, 1 February 2020, from 12:00 pm to 2:00 pm at the Williamsburg Golf Club, 1801 Merrimac Trail, Williamsburg VA.
In lieu of flowers please make a charitable contribution to the American Cancer Society.