Andrew Joseph Forrest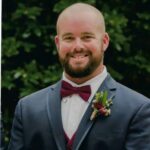 Yorktown, Va. – Andrew Joseph Forrest, 31, passed away suddenly on Wednesday, February 19, 2020. Born in Daytona Beach, Fl. but spent most of his life as a Yorktown resident. Andrew attended York High School. He currently worked as a foreman at Newport News Shipbuilding, where he worked for many years and started as a welder. He enjoyed being out on the water fishing with friends or deer hunting during deer season. He prided himself on being the best father, husband, brother, and friend he could be. Anyone that knew Andrew will never forget his sense of humor, He had one of those personalities that could light up the room no matter the situation.
Andrew was loved by so many. Andrew is survived by his wife Shannon Forrest, his three children, Brandi Forrest, Harleigh Forrest and Levi Forrest and stepson Ashley McInnis; father Jeffrey Wilson; brother Zachery Wilson and his wife Kalyn, and Maxwell Wilson; paternal grandmother Paulette Wilson. He was preceded in death by his mother Peggy Wilson.
The family will receive friends on Sunday, February 23, 2020 from 2:00 to 4:00 at Amory Funeral Home, 410 Grafton Drive, Yorktown, Va. 23692. The family welcomes everyone to join us at Andrew's mother and father-in-laws residence in Yorktown, Va., 23692 following the visitation for food and fellowship. In lieu of flowers memorials donations may be made to the American Cancer Society.