Anastacia Moses Ramey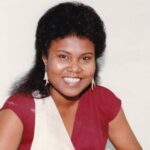 Newport News, Va. – Anastacia Moses Ramey, 63, passed away on Monday, April 12, 2021. Anastacia was a native of Palau and former resident of O'ahu, Hawaii and a peninsula resident since 1997. She retired from the Navy Exchange at Naval Weapon Station after 25 years. She was a member of St. Joan of Arc Catholic Church. She is survived by her husband of 36 years, Jeffrey W. Ramey and her children, Jeffrey W. Ramey, Jr., Julian Tmarsel, Shelda Tmarsel and Sheila Tmarsel and grandchildren, Ava Grace, AJ, Lyra and Imani.
A memorial mass will be held at 3:00 PM on Wednesday, April 21, 2021 in St. Joan of Arc Catholic Church, Yorktown by Father Mike Joly. Interment will be private at a later date. Arrangements by Amory Funeral Home, Grafton, VA.