Alma Laura Griffin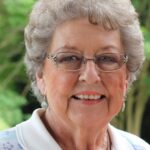 On June 5, 2022, Alma Laura Griffin entered eternal rest. She was preceded in death by her parents, Alma & Conway Richardson, Sr. and her beloved son, Rev. Daniel S. Reagan, Sr. Survived by her husband of 37 years, Richard, children, W. Jeffrey Reagan (Paula), Keith C. Reagan (Lisa), Jennifer L. Utne (Bruce), seven granddaughters, three grandsons, and three great-grandchildren. Also survived by her brother Earle Conway Richardson, Jr. (Betty), two nephews, David Richardson (Jennifer), Steve Richardson (Beth) and five great nieces and nephews.
Homemaking was her joy, but she did serve 25 years as a civilian employee of the US Navy and US Army. Her heart belonged to the Holy Trinity and her loving family.
A viewing will be held on Wednesday, June 15, 2022 from 6-7 pm in Amory Funeral Home in Grafton. Interment will be private at a family plot. In lieu of flowers, she desires contributions be made to World Vision, Samaritan's Purse or the benevolent fund of your choice.