Alicia P. Rhodes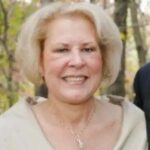 Alicia P. Rhodes, 74, of Seaford, Virgina passed away peacefully on January 28th, 2023. She was born on December 2nd, 1948 in Basking Ridge, New Jersey, to the late David and Felicia (Leocha) Rhodes. As a young adult, she lived in Germany, and attended beauty school. Alicia worked many years as a hairdresser and for Shorewood Packaging. She enjoyed ballroom dancing, being on the water, gardening and animals.
Alicia is survived by her husband, Stephen Jackson, son, David (Meghan) Plessinger; grandchildren, Lydia, Clara, Valerie, and Caroline Plessinger; sisters Carol (Lyn) Walker, and Cindy (John) Bohl; niece Carla Clay; and long time friend Carl Whitmore.
A memorial service will be held at 1 p.m. Sunday, February 5th at the Amory Funeral Home Chapel, Yorktown. In lieu of flowers memorial contributions can be made to the Cancer Research Foundation.