Alice Marie Cruz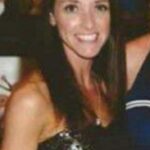 Hayes, Va. – Alice Marie Cruz, 42, passed away on Wednesday, January 29, 2020. Alice was born in Williamsburg and lifelong Gloucester resident. She was an avid softball player with Newport News Rec Leagues. She was a loving and devoted wife, mother, grandmother, daughter and sister.
Alice was preceded in death by her father Pete Dunston; a nephew Chris Jenkins and brother-in-law George R Woodhouse II. She is survived by her husband of 15 years Reynaldo Cruz; and children, Courtney, Alexis, Breann, Tina, Toni and Robert; her mother Ann; sisters, Hope, Abigail and Christy; brothers, David, Carlton, Paul, Willie and Scott; and 6 grandchildren, Marina, Carter, Marley, Julian, Matthew and Mason.
A memorial service will be held at 11:00 AM on Monday, February 10, 2020 in Severn Church, Gloucester, Va. Arrangements by Amory Funeral Home, Grafton, VA.
Memorial maybe made to help with funeral expenses to Amory Funeral Home, P.O. Box 1026, Grafton, Va. 23692.
Alice Marie Cruz, age 42, passed into Heaven surrounded by her family at home on Wednesday January 29, 2020 after a 3 year battle with cervical cancer. Alice was a delightfully sweet wisp of a girl who had a huge heart for the world. She was filled with curiosity and wonder.
She loved to pick Blackberries in July, play on the beach in August, eat chocolate, play practical jokes and she loved animals, Christmas and snow.
She had a childlike joy and faith. She never let you cry alone. She loved all the family trips to Wintergreen, cruises to the Caribbean, Disney World and her favorite place was the family beach house in the Outer Banks.
She was a devoted mother. She was the baby of a blended family of 9 children.
She was predeceased by her Father Pete Dunston, her brother-in-law George R Woodhouse,II and nephew Christopher Jenkins.
She is survived by her husband Reynaldo Cruz; daughters Alexis and Courtney Cruz; three step daughters Toni Lindsay, Tina Cruz, Breann Cruz and one adopted son Robert Meitz as well as 6 step grandchildren. she is also survived by her mother Ann Dunston; siblings Scott Andersen, Christi Newsome, William Dunston, Abigail Dunston Woodhouse Walker (Mike), Paul Belvin (Rhonda), Carlton Belvin (Betsy), Hope Jenkins, David Belvin; nieces Niki Warren, Whitney and Ashley Belvin; nephews Jeremy Belvin, Nicholas Jenkins, Michael and Benji Loveland and Lee Woodhouse II; and a host of aunts, uncles and cousins and extended family.
A service of remembrance will be Monday February 10, 2020 at 11:00 AM at Severn Church, 9066 Robins Neck Rd, Naxera, officiated by Pastors Bill West and Art Wolz.
The family will receive friends following the service in the church social hall. In memory of Alice memorials may be made to Fixin' to Save Spay and Neuter Clinic at White Marsh, VA or Gloucester Mathews Humane Society. Arrangements by Amory Funeral Home, Grafton.