Alice M. Tucker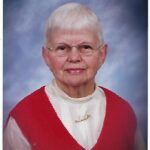 Alice M. Tucker, 95, left to be with her Heavenly Father on Wednesday March 4, 2021. A native of Pisgah, Alabama she and her husband Wallace moved to the Peninsula in 1957.
She was a charter member of Seaford Baptist Church and a member of the Ruth's Praying Hands class. She took great joy in spending a lifetime of supporting, loving and caring for others.
She worked at the York County Selective Service System the last 10 years it was in service.
She was married to her husband Wallace Tucker, Jr. for 59 wonderful years before his passing in 2005. Theirs was a love story evident in their love for the Lord, each other, family and friends. She is also pre-deceased by her son, Tony Tucker of Durham, NC.
She is survived by a daughter, Hope Holloway and her husband Michael of Seaford Virginia; three grandchildren, Misty and Brad Tucker of Durham, NC and Amber Torres of Seaford Virginia; as well as four great-grandchildren.
After cremation, a memorial service in celebration of her life will be held on Friday, March 12th, 11:00am at Seaford Baptist Church with pastor Michael Howard officiating. Burial will be private.
The family would like to express their heartfelt appreciation to the staff at The Gardens at Warwick Forest, who she considered like family, for the loving care provided to her during the time that she resided there.
In lieu of flowers, the family requests that memorials of love be made to: Seaford Baptist Debt Retirement Fund, 1311 Seaford Road, Seaford, VA 23696.
Arrangements by Amory Funeral Home, Grafton, Virginia.