Alfred Richard Owens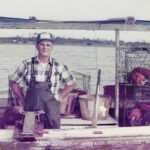 Yorktown, Va. – Alfred R. Owens passed away on Wednesday, November 23, 2022 at the age of 94. Alfred was born and raised in Dandy, Virginia. He was a lifelong waterman. He loved the Baltimore Orioles and Washington Redskins. He loved his gardening and working in his flower beds.
Alfred was preceded in death by his first wife Helen L. Owens and a son, Kenneth R. Owens. He also was preceded in death by his second wife Grace Owens. He also leaves behind his two surviving children, Judy Johnson (Kevin), George Owens (Dianne), stepchildren Paul Evans (Vicky), Ken Evans (Nan), Dewey Evans (Virginia). He also leaves behind six grandchildren, Kim Brown, TJ Brown, April Owens, Stacy Thigpen, Kelly Stokes, and Jill Kidd and 2 step grandchildren, Joshua and Rebecca along with several great-grandchildren, and nieces and nephews.
Visitation will be on Thursday, December 1, 2022 at 11:00 a.m. at Amory Funeral Home with services following at 12:00 noon and graveside services to follow Peninsula Memorial Park, Newport News, Va.