Adam Thomas Moore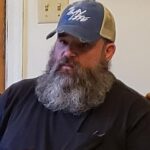 Adam Thomas Moore, 51, of New Pointe, VA (formerly Seaford, VA) passed away at his home along with his wife, Melissa Rowland Moore, on Wednesday, June 8, 2022.
Adam is survived by his parents, Tommy and Mary Moore of Seaford, VA. He is also survived by a son Jonathan Moore, siblings Bill Michel (Fawn), Trish Emler (Claude), Vickie Concilus (Mark), Kathy Marrs (Jimmy), and Tim Moore (Shay). Also surviving are numerous nieces, nephews, aunts, uncles, and cousins.
Adam loved camping at New Pointe RV Resort and hanging out with his camping family. He loved playing music & played it loud and proud whether you wanted to hear it or not. Family gatherings will never be the same especially our family Balderdash games.
A casual memorial service will be held at Providence United Methodist Church in the church fellowship hall on Friday, June 17th at 1:30pm with a Celebration of Life for both Adam and Missy following the service.