Barbara Jennings Insley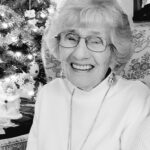 Newport News – Barbara Jennings Insley, 89, of Historic Hilton Village, passed away peacefully at her home surrounded by many of her family members on Wednesday, April 12, 2023. Born on January 20, 1934 to parents Angelo Taylor Jennings and Helen V. Jennings, Barbara was raised in York County and then spent many of her happiest years in Historic Hilton Village married to her husband of more than fifty years, George T. Insley, until he passed away. Together, Barbara and George raised their family of three children, Patricia I. Christopher (Raymond), George T. Insley (deceased), and Susan V. Nicolay (deceased). Barbara's family also includes beloved grandchildren Lindsey Leeth (John), Jason Insley (Lauren), Blair Christopher (Tiffany), Melissa Smooke (Matt), and Dylan Nicolay; and great-grandchildren Landon and Spencer Leeth, Ella and JT Insley, Kinley, and Collin, and Clara Christopher.
Her love for Historic Hilton Village was vividly illustrated through her yearly participation as a banner bearer in the 4th of July Parade, decked out in her traditional red, white, and blue outfit. Barbara was known by her neighbors for baking cookies for the children and bringing meals to people unable to cook for themselves. She was a member of the Historic Hilton Village neighborhood group and the horticulture group. She participated in the Pink Flamingo Garden Tour and headed the Green Glove Award. Barbara dearly loved gardening and had one of the most beautiful backyards in the neighborhood. She enjoyed sitting at her kitchen table or on her patio and looking out at her flowers.
Barbara had been a long-time and faithful member of St. Andrew's Church as well as the Daughters of the American Revolution. She was also an ardent supporter of the Peninsula Community Theatre. She attended exercise classes at the local YMCA for over fifty years and was a voracious Bridge player, participating in multiple Bridge groups.
In addition to her daughter, grandchildren, and great-children, Barbara is survived by her much-loved nieces Cynthia Watkins, Tommi Weisner, and Martha Fenn, and many other family members, along with lifelong friends who will greatly miss her.
Gratitude is extended to her caregivers who made her life so much easier. And a very special thank you to the nurses at Personal-Touch Hospice.
A memorial service will take place at St. Andrew's Episcopal Church, 45 Main Street, Newport News, VA on Wednesday, April 19 at 2:00. A graveside service will be held at Parklawn Memorial Park, 2551 North Armistead Avenue, Hampton, VA on the same day at 3:00. In lieu of flowers, contributions may be made to the Peninsula Community Theatre online at pctlive.org/donation.html or via mail at P.O. Box 11056 Newport News, VA 23601 or to St. Andrew's Episcopal Church online at standrews-episcopal/giving-and-memorials/.