James Woodward (Woody) Carmines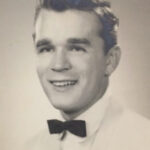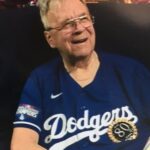 Woody Carmines, a life-long resident of Tabb, VA passed away on Monday, August 9th. He is survived by his loving wife Judy to whom he was married for 61 years; two sons and their wives: Jeff and Sheila Carmines and Robbie and Melissa Carmines. He is also survived by his beloved grandchildren Zac, Ruxx, Emma and Jude.
Woody battled Parkinson's disease for the past twenty years and died of complications from the disease. Throughout his struggles, he remained positive and retained his sense of humor. We want to thank all of his caregivers over the years and especially his personal angel, Casey Cleland.
Born in Poquoson, Woody grew up on what is now known as Taylor Farms (his father and mother were Preston Ruxxbury and Gertrude Taylor Carmines). He graduated with Judy from the newly-opened York High School in 1959. His post-secondary education included an Associate's degree from Ferrum College, BA in History and Masters in Education from Union College in Kentucky followed by advanced degrees in Education from Old Dominion University.
Woody was a life-long educator who began his career teaching at Ferguson and Denbigh High Schools. At age 28, he was named principal at Poquoson High School. He also had stints as the principal at Tabb Middle and Tabb High School. In the 90's, he was asked to develop the Grafton Middle and High School complex and was named the Executive Administrator of the two schools when they opened. He believed in the importance of serving the York County community, treating others with dignity and respect, and the philosophy of always giving your best to any endeavor. He personified these values every day and loved helping kids and teachers throughout his career in education. Woody also believed in the value of sports and extracurricular activities for positive child development. He was a long-time member of the Virginia High School League Board (past President) and he was always a visible supporter of his school's athletic programs.
Woody was also a member of the York County Ruritans (past President) and a member of Bethel Baptist Church. He was a sports fanatic his whole life and a diehard Washington Football Team and L.A. Dodgers fan. He also enjoyed driving his pickup truck with either rock or country music blaring. His other personal passions were NASCAR and landscaping/gardening. He was always approachable, friendly and eager help anyone in need; he leaves behind a legacy of love, humor, and compassion.
Services will be held privately. In lieu of flowers, please support research and therapies for Parkinson's disease.