Carolyn Lee "Pat" Edwards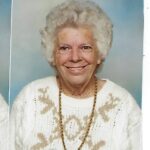 Yorktown, VA – Carolyn Lee "Pat" Edwards, 78, passed away peacefully at home surrounded by her loved ones, after a four year battle with cancer on February 12, 2020. Carolyn was preceded in death by her parents Elwood and Pearl Ginevan; grandson Jonah Lee Wymer; five brothers and two sisters.
She is survived by one daughter, Debbie Wymer, husband Daniel; grandchildren Joshua Blanchard wife, Karin, and Hannah, Faith, Teresa and Travis Wymer. She is also survived by Raymond and Tiffany Wymer who were like grandchildren to her; six great-grandchildren, Trinity, Haley, Justin, Madison, Alana and BJ; three sisters, Ellen Davis, Doris Miller and Linda Gross; one brother Mouse Ginevan wife, Lawson, and many nieces, nephews and their families.
A funeral service will be held at 2:00 pm on Sunday, February 16, in the chapel of Amory Funeral Home, Grafton.Interment will follow in Hampton Memorial Gardens. The family will receive friends from 7:00 – 8:30 pm on Saturday, February 15, at the funeral home.