Pattie Sue Arnold Stubbs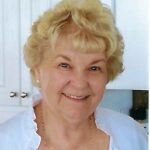 Pattie Sue Arnold Stubbs passed away at home in the loving arms of her husband during the early hours of January 3, 2020. Sue battled pancreatic cancer for nearly two years. She and her family are very thankful to all of her doctors and nurses for the superb care she received during this time. Wonderful treatment and the many prayers of family and friends blessed Sue and her family with many outstanding moments over the last two years.
Pattie Sue was born in 1935 in Raleigh, North Carolina to Emma Doris Honeycutt and Herbert Lane Arnold, Jr. She graduated from Garner High School ('53) and Peace College ('55). In 1958, Sue married Sandy and moved to Hampton, Virginia where Sandy worked as an aerospace engineer and Sue worked as a secretary for NACA/NASA. Sue and Sandy attended First Presbyterian Church in Hampton.
In 1974, Sandy and Sue moved to York County, Virginia and began building a fine home, which ultimately took 18 years to complete. This home was a refuge to all who came to visit and where Sue died 46 years after moving in. Sue was best known for being a wonderful caregiver. She spent her entire life caring for people: grandparents, parents, children and additional children that she collected like treasures. She was a magnificent friend to all and a terrific letter writer. Traveling with her husband, Sandy, to visit friends and family all over the country brought her great joy. She also loved to read, look at the river, bird watch and stay up to date on all the current news and politics.
Sue is preceded in death by her mother and father. She is survived by Sandy, her husband of 61 wonderful years, and her children, Scott (Debi) of Barboursville, VA; Stephen (Janet) of Yorktown, VA; and Susan (Jay) Forsgren of Yorktown, Virginia. She has eight loving grandchildren: Katherine, Hannah (Ketan), Anna, Sam, Alexander, Spencer, Sarah and Nathan, all of whom will miss her greatly. She also has two darling great-grandchildren.
A memorial service is scheduled for 2 p.m. on Saturday, January 11th at Yorkminster Presbyterian Church with a reception to follow. All are welcome to attend and celebrate Sue's life. In lieu of flowers, donations may be made to Yorkminster Presbyterian Church, Deacon's Fund.