Ruth Esther Pennewell Jones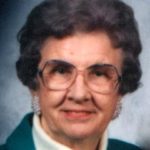 Pittsville, Maryland – Ruth Esther Pennewell Jones (Ruth), 97, of Yorktown, Va., formerly of Salisbury and Pittsville, Md., passed away peacefully at the Hamilton at York, Yorktown on Thursday, August 15, 2019. Born in Pittsville, she was the daughter of Lawrence Edward Pennewell and Lelia Esther Jackson Pennewell. Ruth was preceded in death by her husband of 72 years, Jacob E. Jones (Jake), her parents and sister, Grace P. Clark (Charles). Ruth was a graduate of Pittsville High School's class of 1939 and she attended the State Teachers College, Salisbury, Md. until the untimely death of her father. Ruth was a lifelong homemaker and poultry grower, working alongside Jake on their 100 year old Jones family farm. She loved working in her flower and vegetable gardens but her real passion was music. Teaching herself to play the piano by ear at age 8, Ruth started playing at Friendship Methodist Church where she was a member. After her marriage to Jake, she joined Grace United Methodist Church, Pittsville, where she later became the church pianist and organist. When Grace Church closed, Ruth and Jake moved their membership to Ayres U.M. Church, Pittsville, and she continued to act as an alternate organist or pianist. But church was not her only venue. Ruth played for many minstrel and variety shows all throughout the 50's, 60's, and 70's and for many private events well into the 2000's. Even in these later years of life she entertained at Atria, Salisbury and The Hamilton. She was known for her musical talent…just hum a few bars of a song and she could play it. Ruth was a member of the Wicomico Order of the Eastern Star #91 (OES) for over 25 years. She also served as the OES organist. In the early years of her marriage Ruth played the keyboards in a small local musical group while Jake played the saxophone.
Ruth's other memberships included the Friendship Homemakers Club, Ladies Auxiliary to the Pittsville Lions Club, Happy Timers Club, as well as the Maryland Farm Bureau. She also served as 4H Leader to support her children's extracurricular activities.
Ruth is survived by her 3 children, Peggy J. Scott (Dick-deceased) of Swansea, S.C., Ruth Ellen J. Adkins (Mike) of Egg Harbor Township, N.J., and Dr. Jacob E. Jones (Barbara) of Yorktown, Va., a sister, Mary Emily Pennewell Jones (Frank) of Powellville, MD. She is also survived by 8 grandchilden and eleven great grandchildren that she loved dearly.
A private family graveside service will be held on Monday, August 19, 2019 at Pittsville Cemetery with Rev. Paul Sherwood officiating. In the Fall, a public "Celebration of Life" service will be held to honor Ruth. Details will be announced later. Contributions may be made in memory of Ruth to Ayres U. M. Church, 7515 Gumboro Road, Pittsville, Md. 21850. Arrangements are in the care of Amory Funeral Home, Grafton, Va., and Holloway Funeral Home, Salisbury, Md.