Alyssa Nicole Guye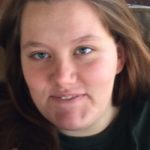 Yorktown, Va. – Alyssa Nicole Guye, 21, passed away unexpectedly on Sunday August 4, 2019. She is survived by her daughter, Adalyn Guye; her parents, Gary and Dawn Guye; her siblings, Katie, Jamie, Alexis, Ashlyn, Diana, Eddie and Samuel; and companion Tommy Malone.
She is preceded in death by her nana, Sharry Beck and brother, Clark Guye. Alyssa was a 2016 graduate of Tabb High School and a member of Northside Christian Church. Alyssa was a devoted and loving mom to Adalyn whom she adored beyond measure. She loved traveling, adventures, fishing, cooking, puzzles, beaches, animals especially elephants, and spending time with her family. She was
kind and empathetic to others. She accepted Jesus and desired for others to know Him as well.
The family will receive friends on Wednesday from 6:00 to 8:00 PM at Amory Funeral Home in Yorktown, VA. A celebration service will be held on Thursday at 3:00 PM at Northside Christian Church, 1300 George Washington Memorial Hwy, Yorktown. In lieu of flowers donations may be made to: sheldrickwildlifetrust.org/donate.