Ruth Joyce Kacmarek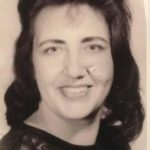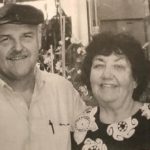 Yorktown, Va. – Ruth Joyce Kacmarek, 84, passed away on Friday, June 28, 2019. Ruth was a native of Robins, Tennessee and a former Indianapolis, IN and Pheonix, AZ and Yorktown resident since 2008. She retired from RCA as a Quality Inspector in 1994 after 32 years of service.
She was preceded in death by her son, Kevin Roy Hornsby and a brother Willis Wright. She is survived by her husband of 19 years, Thomas Joseph Kaczmarek and five daughters, Stella Jones (Rodman Atkins), Renee Kuppinger, Rochelle Goode (Jimmy), Lisa K. Agee and Eva Marie Hornsby. She is also survived by her step children, Allisyn, Alisha, Alexander and Arron; 9 grandchildren and 15 great grandchildren.
A memorial service will be held on Monday, July 1, 2019 at NOON in Grafton Baptist Church. Arrangements by Amory Funeral Home.