Tiffany Ann Morgan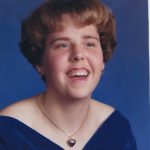 Yorktown, Virginia – Tiffany Ann Morgan, 49, passed away on Sunday, June 23, 2019. Tiffany was a native and lifelong resident of Yorktown. She graduated from York High School Class of 1991 and was a member of Dandy Baptist Church. She enjoyed watching and cheering for the Washington Redskins. She also enjoyed music, animals and giving hugs. She was a gold medal winner in the Special Olympics for bowling in 1987.
Tiffany was preceded in death by her mother, Mary Madeline Morgan. She is survived by her father Arthur Morgan; a brother Steven Morgan of Williamsburg; a sister Karen S. Whitley (Rick) of Dandy and an aunt, Judy Mathis(Dwayne).
A graveside service will be held at 2:00 PM on Wednesday June 26, 2019, in Peninsula Memorial Park. The family will receive friends at Amory Funeral Home from 12:30 to 1:30 prior to the graveside service.
The family would like to extend their sincere appreciation to the staff of AJT Independent Group Home; the staff of Coliseum Park and the staff of Virginia Health Hospice.
In lieu of flowers, memorial donations may be made to American Diabetes Association, P.O. Box 11454, Alexandria, Virginia, 22312.