H. Harris Hamilton, II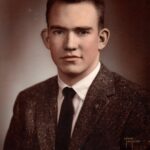 H. Harris Hamilton II, 82, passed away surrounded by his loving family on Sunday, October 30, 2022.
He was the son of the late Hubbard Hamilton and Sarah Lindsay, born in Williamsport, TN on January 3, 1940. He lived in Yorktown, Virginia since 1976.Harris was a graduate of Central High School in Columbia, TN. He studied engineering, graduating from Tennessee Tech (1963), Virginia Tech (1969) and George Washington University (1980).
Harris's love of engineering carried him to NASA, where he had a distinguished career spanning 38 years at Langley Research Center. Following his retirement, he spent 7 more years continuing research for North Carolina State University in the same field. When he finally left the rocket science behind, he enjoyed spending his time at his church, Crooks Memorial United Methodist Church, playing golf regularly with his close friends, and doing anything he could for his family.
He is survived by his high school sweetheart of 62 years, Donna Rayburn Hamilton. He had two daughters, Lorrie Mercer (John Mercer) and Leslie Osborn. Harris had two granddaughters Emily Mercer and Caitlin Osborn who meant the world to him and lit up his face every time he saw them.
A visitation with the family will be held at 10:00 am followed by a memorial service at 11:00 am on Thursday, November 3, 2022 at Crooks Memorial United Methodist Church. The memorial service will be led by Reverends B. Sung and Bob Parsons. Burial will be private with the immediate family following the service. In consideration of immunocompromised family members, the family asks that masks be worn during the visitation.
Arrangements are being handled by Amory Funeral Home.
In lieu of flowers, gifts may be sent to Crooks Memorial UMC at 204 Cook Rd, Yorktown, VA 23690.